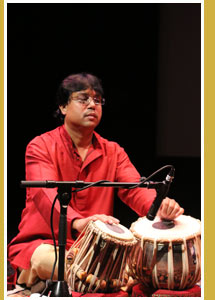 Jyoti Prakas resides in the entertainment capital of the world, Los Angeles, and began his musical career at childhood from his father, Sri Nagendranath, and later with Pandit Brojen Biswas and Sri Sumantra Guha. As his passion and experience playing tabla progressed, he came under the tutelage of Pandit Abhijit Banerjee, one of the most renowned tabla players in India today.
Jyoti Prakas has performed extensively in India and United States, and in the presence of Sitar maestro - Pt. Ravi Shankar and highly acclaimed Hindustani vocalist—Vidushi Girija Devi. He has accompanied various internationally acclaimed musicians like, Pt. Jasraj, Vidushi Purnima Chowdhury, and Viraj Amar on vocal, Pt. Keshav Ginde on flute, Pt. .K.Sidhar on sarod, Pt. Tarun Bhattachrya on Santoor, Kathak Dancer Pt. Chitresh Das, Tap Dancer Jason Samuel Smith, just to name a few. He has also played tabla in the prestigious "EMMY AWARD 2005."
He has participated in community programs organized by the San Diego Museum and delivered lecture demonstrations in La Jolla Elementary School, San Diego, Whittier College, Whittier, and Concordia University, Irvine. Jyoti Prakas has also performed at Drum Festival at University of Riverside, California.

Jyoti Prakas has worked as an Assistant Music Director for a telefilm on Child Psychology for Kolkata Television. He has performed in All India Radio and Television, conducted workshops in West Bengal, India and also been on the panel of judges for various music competitions arranged by University of Calcutta, India. He has taught for several years in various institutions in India, and has been teaching since 2004 at Southern California Chapter of the prestigious music school DHWANI ACADEMY OF PERCUSSION MUSIC, founded by Pandit Abhijit Banerjee.